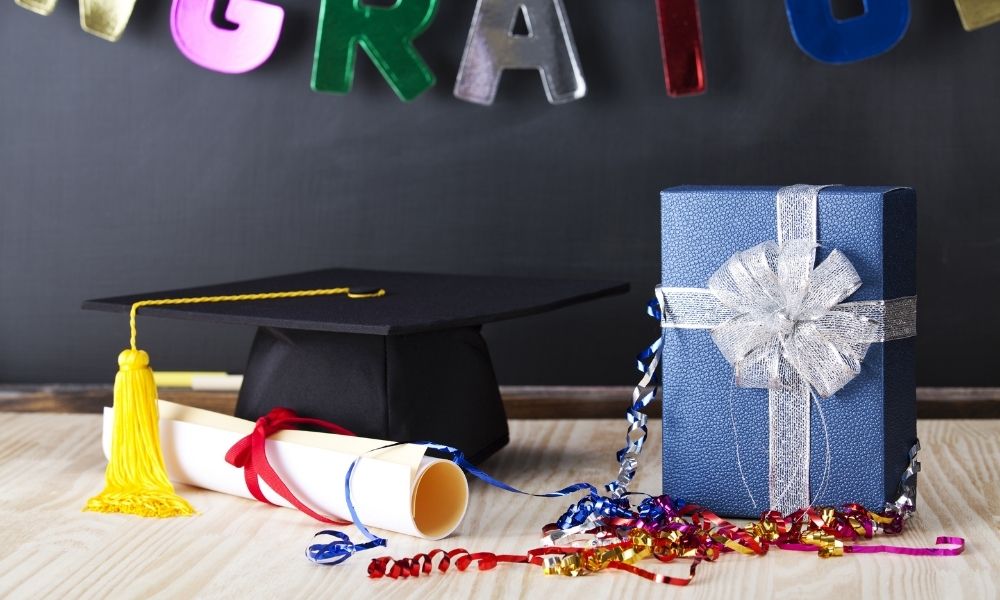 Starting a life of independence often begins when a student graduates from high school. After spending years in a structured, narrow path, they can choose the life they want to live. However, having a high school graduate choose what they want to do for the rest of their lives takes time and self-reflection.
Luckily, you can offer high school graduation gifts every student will love and take on their life journey. Whether it's for a good laugh or teaching them an essential skill, it will make their future pursuits less daunting and more exciting.
Graduation Gifts They'll Love
Graduating is a big deal for many teenagers, as it offers a chance for them to become more independent and take on the world their way. However, they aren't always entirely ready for being solo in their future endeavors. Giving a high school graduate a present can get tricky when you don't know what to gift them.
So, searching for practical and unique gifts is the best route to take for newly independent graduates. Finding high school graduation gifts every student will love will help them grow into functional adults.
Keeping Them Busy in the Summer
Getting out into the sun is a great way to celebrate recent high school graduation, such as enjoying the warm weather, cool water, and many outdoor activities to try out. You can gift them some portable games to take with them on the go. Every time they go to a graduation party, they can whip out the new game you gifted them and have a blast, such as Shut The Box or a mini arcade game.
Perhaps the graduate you know has a lot of spare time before they start attending college. Consider getting them a journal. It'll help organize their thoughts, write out their plans, and set reminders for anything in the upcoming future. Having the ability to journal creates a more organized lifestyle and promotes the person to become more aware of their feelings.
Teaching Themselves New Recipes
When high school graduates are heading out on their own, they need to have basic life skills to get through each day. Whether it's learning how to do their laundry or paying their bills, being responsible comes with a lot of work. However, a life skill often neglected by a recent independent young adult is cooking for themselves.
You can find student cookbooks, cocktail recipes, and appetizer cookbooks for graduates to take with on their next adventures. If they're limited on space in their new homes, you can find them miniature cooking utensils and supplies. Finding little gifts to maximize their living space can save them time for organization and flow.
For Their Car and Commuting
Whether they commute through public transportation or drive their cars, high school graduates need to have the means of travel to attend college classes in the fall. Driving will take up a lot of their time, whether they attend school while living at home or driving a state away to attend college. So, finding a gift that makes commuting less dull will make them more excited for their classes.
If you know a recent graduate who drives their car, gifts that make their drive smoother will help them in emergencies. You can give them miniature emergency kits that include everything from bandages and towelettes to extra cufflinks and lip balm. Also, if they take public transportation, you can gift them miniature books to keep them busy.
Encouraging Their Artistic Side
Maybe you know a graduate that is attending an arts college. Whether they pursue graphic design or animation, they must keep their skills sharp without risking artistic burnout. If you know a graduate that loves to paint, you can give them different miniature paint sets. Artists love to feel inspired from impromptu places, so offer them small art collection books they can take with them.
Preparing for college can be stressful, and sometimes a graduate doesn't know what to do for relaxation. So, offer them a miniature art therapy kit to provide hours of artistic entertainment to soothe their nerves.
Promoting Their Athletic Abilities
There's a chance you know a graduate who obtained an athletic scholarship to attend their dream college. Football, track, lacrosse, and basketball are great sports to help academics. As they spend their time attending classes and practicing their athletic skills, getting a gift to make their lives more manageable and smoother will help them get through their education.
You can gift them earbud keychains in the shape of a tote or backpack, perfect for clipping onto their purses or shoulder bags. It'll keep their earbuds safe and easily accessible when they need to switch from lectures to athletic practice. If you want to give them something more humorous, gift them a miniature tetherball kit they can get a laugh out of.
Embracing the Dorm Life
When a graduate is getting ready to start college, they'll most likely be living in a dorm. Whether it's with a friend they know or someone they only met yesterday, living life away from family and old friends can make them homesick. So, find gifts that can make their dorm life easier to adjust to.
Giving soon-to-be college students something they enjoy will help them adjust better to their new dorm. A great gift to keep their positivity up is a miniature Bluetooth speaker that can sit on their desk while they get ready for the day. If they love reading to pass the time, you can gift them miniature novel sets of Shakespeare or love stories that will keep them busy for days.
Aiding in Their Study Time
As high school graduates adjust to their college life, they will spend most of their time studying and doing homework. Then, on the weekends, they go out and spend time with their friends. As their weekdays get crammed with homework and studying lectures, it can slowly bleed into their social lives and make it harder for them to relax.
So, get them some studying aids such as sticky notes, pill-shaped highlighters, mini notepads, and page marker sets to keep themselves organized and to smooth out their study session time. The more they organize their study life, the better they can balance their social life.
Finding the perfect gift for a graduate takes time and effort. That's why we at Little Obsessed offer dozens of small gifts that your loved ones will appreciate. From kitchen utensils to fun sticker books, we provide the perfect gifts for high school graduates. If you have any questions about our products, please reach out to us today.