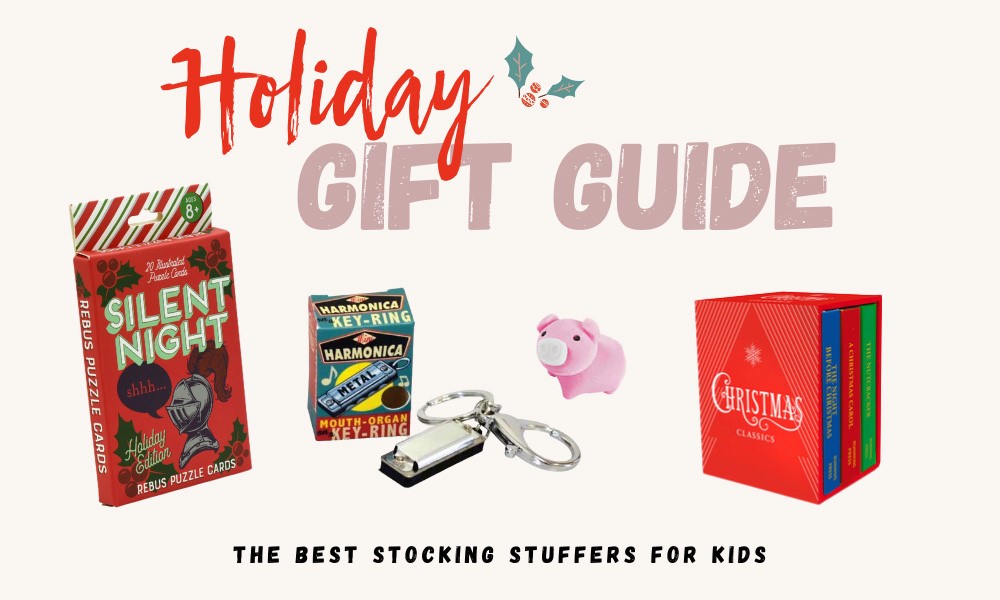 There's one thing all children have in common; they are getting excited for the winter holidays and the chance to see family and friends. Not only do they get a small break from their education, but they also have the opportunity to spend time with loved ones. But sometimes, parents can't ignore their children's excitement for receiving presents, as well.
Although presents aren't the entire reason to celebrate the holidays, it's a great way to reward children for good behavior and hard work. It's to show appreciation and love for your beloved family and to allow them to enjoy their interests. So what are some smaller presents they can take with them? Here are a few of the best stocking stuffers for kids so they can enjoy their presents, no matter where they are.
Mini Sticker Books
It's no surprise that many children love to sit down and draw or craft. It's a creative avenue for kids to learn about shapes, colors, and other helpful information to carry over as they grow. So if you have children who love arts and crafts, consider getting them art supplies. More specifically, you can get them mini sticker books.
You can get a mini sticker book of their favorite cartoon or movie characters to give them something to do while they relax. It's a timeless and easy way for children to enjoy themselves peacefully, not to mention decorating to their heart's content.
After Dinner Amusements Games
Nothing is more entertaining than having a good hearty laugh after a good meal. So consider picking up a few After Dinner Amusements games to try. They offer plenty of categories, from travel trivia to riddles and charades. It allows for endless conversation while making their brains get to work.
These After Dinner Amusements games come with 50 prompts to try and get the conversation moving. It'll create a wonderful experience while getting to know each other even better. So pick up a few today and see how excited your children's faces will be with these fun games.
Mini Kitchen Utensils
Everyone knows someone who loves to cook and bake. Maybe it's an activity they partake in at least every day, creating delicious dishes and pastries you love. So pick up some miniature kitchen utensils they can take with them on the go. Whether it's for the sake of humor or they regularly travel, providing them supplies for an activity they love is considerate and fun.
There are so many options to choose from: mini graters, mini spatulas, mini silicone whisks. If they love to bake small dishes, mini utensils will do the job and provide the perfect amount of control in their mixing and prepping process. So pick up a few for them to try and see what magical creations they make.
Tiny Children's Books
If there's one thing to take away from the holidays, it's that you get to enjoy fun activities to your liking. You can play fun games with your relatives or sit back and relax in your comfiest chair. That's why you should give miniature children's books to your children and relatives. They're adorable and travel-friendly for any enthusiastic reader.
Whether they're a big sci-fi fan or love simple stories about bears and honey, it's also one of the most inexpensive stocking stuffers you can find. So keep a lookout for fun and interesting books for them to enjoy during their holiday downtime.
Unique Miniature Erasers
Children often love to express themselves in many ways. Whether it's the games they play or the activities they enjoy, children love to show their interests to others. So what better way to allow them to express themselves than giving unique miniature erasers they'll love? From sea creatures to staking stones, it's a great way for kids to share their love of art with others while having something unique in their possession.
You can always keep it simple by finding erasers, like food, animals, cars, or even seasonal themes. So keep a lookout for unique and fun erasers to give your children. You can even find an eraser set in the shape of a Christmas tree, so keep your ideas open.
Miniature Toys
Kids love to move around: jumping, playing, spinning, running—they strongly dislike sitting still for too long. They have so much built-up energy; it can get complicated if you're in a location with limited space and specific rules. So one of the best stocking stuffers for kids is miniature toys.
There are many kinds to find, such as bouncy balls and small hand puzzles. So thrill your child by giving them a miniature toy as a stocking stuffer this year. It can keep a child's attention for long periods and help their problem-solving development.
Mini Puzzles
If your younger relatives love to work their brains, consider gifting them miniature puzzles as a stocking stuffer. Puzzles, a classic and time-consuming activity that keeps the player busy for hours, provide fun pictures to replicate and run up to over two hundred pieces. So it's a fun pastime for anyone of any age and a great way to spend time together.
Mini Emergency Kits
You never know if someone will get a paper cut from opening so many presents, so consider purchasing a miniature emergency kit for any occasion. From stain remover and deodorant towelettes to lip balm and bobby pins, they make the perfect stocking stuffer for anyone.
They also have band-aids and first aid miniature pieces you can use at any time for last-minute care. Not to mention that the carrying cases come personalized for any recipient. So consider gifting a miniature emergency kit; you never know when it will come in handy.
The holidays are right around the corner, and coming prepared with memorable gifts is time-consuming and can get costly. So let us help you at Little Obsessed. We offer plenty of miniature-sized goods that you can give to anyone this holiday season. You never know who might love small gifts in their stockings! So look at our catalog and see what tickles your fancy.