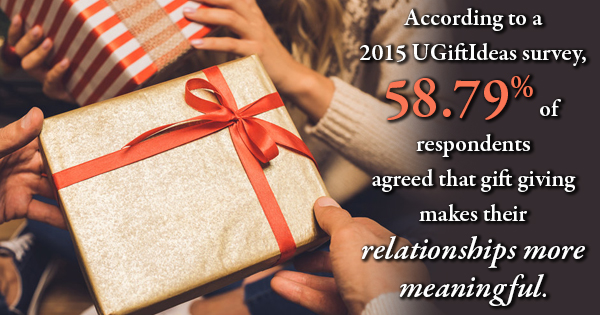 Believe it or not, Thanksgiving is just around the corner! And if you're planning on spending Thanksgiving at a friend's house or with family members, it's important to bring them a gift. Not only does giving a gift show your appreciation, but with a 2015 UGiftIdeas survey showing 58.79% of respondents say gift giving makes relationships more meaningful, you can further strengthen your relationship. So if you're looking for a few tips on how to choose the right gift, keep on reading.


Know what they like: The first step in buying a gift is knowing what the receiver likes and dislikes. If you're buying a gift for friends or family, this should be pretty easy. From books to toys to decor for the kitchen or home office, there are so many different directions you can go in. Or you can even think of gift basket filler ideas and combine a few of the receiver's likes. A great idea for a Thanksgiving gift would be something like wine glasses, bakeware, or other items they can use on Thanksgiving. But overall, make sure your cute little gifts are something they'll actually like.


Consider usefulness: After considering their likes and dislikes, you should be sure to think about how useful the gift will be. No one wants a gift that they won't actually use. Instead, you should buy something that the receiver will want to use over and over. So if your friend doesn't cook, you shouldn't buy them cookware. Instead, make consider a new journal or a small painting set for their creative side. Better yet, buy them something related to Thanksgiving -- turkey decor or fall scented candles are perfect because they can be used each year. So keep usefulness and functionality in mind when thinking of ideas for little gifts.


Make quality a priority: While there are tons of gift basket filler ideas, make sure you're not giving a basket full of low-quality items. Instead, look for cute small gifts that are high-quality and will last. Of course, money isn't everything. But you don't have to spend a fortune to get a nice gift. So don't settle for something simple and cheap -- make sure you're choosing a seller that offers high-quality products that you know your friends and family will love and will be able to use for a long time.


While buying gifts can sometimes be stressful, keep these tips in mind to help you come up with the perfect gift basket filler ideas. If you consider the receiver's likes and choose a high-quality gift they'll actually use, you're sure to choose a gift they'll love.