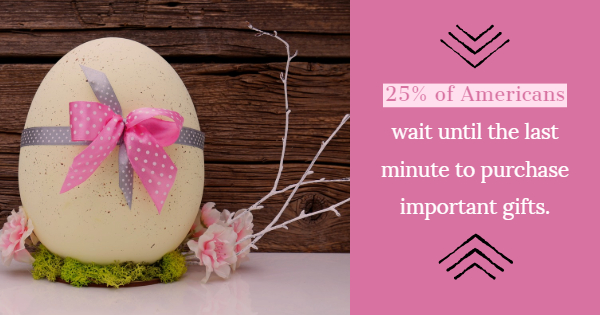 Easter is right around the corner and that means it's time to start crafting the perfect Easter basket for the occasion. Whether you're creating a unique Easter basket for your child or you want to build something special for your spouse, here are some tips and tricks to crafting an Easter basket that would make the bunny jealous.
Start with the base
The base of your Easter basket includes the colors on the outside of the basket, any decorations, and, of course, the lining of the basket. For the basket itself, consider painting the bucket with fun, pastel colors. This will create a whimsical feeling that children will adore. However, you can't beat the look of a classic wicker basket for the adults in your life. Try putting a spin on an old favorite by painting the brown wicker with a beautiful eggshell white color. For additional flair, try adorning the basket with glitter accents.
There are a couple different options you can choose to create a unique Easter basket base; while many people love the look of fake grass, you can stuff the base with feathered cotton balls, fabrics, or even shredded paper to match your final look.
Focus on fillers
What can you fill a gift basket with? While you might not be able to stuff in a new car, there are plenty of small gift ideas that can create an eye-popping Easter basket display. Even though 25% of American shoppers wait until the last minute to purchase the perfect gifts, choosing cute little gifts ahead of time make will ensure you purchase the best Easter basket fillers for this special day.
It's tradition to load your child's Easter basket with unhealthy candies and toys, but there are countless Easter basket fillers to commemorate this happy (and hoppy) holiday. Consider choosing one of a kind gifts your loved ones can actually use, like a desktop zen garden or a small painting set. For the kids in your life, don't hesitate to include heart sparklers and mini foam balls as Easter gift ideas. These affordable options will give your child an entire day of play while you enjoy quality time with your family.
For a unique visual display, consider using a variety of Easter basket fillers of various sizes. While little gifts look great in the front of an Easter basket, you should offset this with taller items, including start sparklers and boxed gifts to create a border within the basket.
If you want more ideas for filling gift baskets this Easter, rely on the quality products of Little Obsessed. Our cute, fun Easter gift ideas will inspire your inner crafter. Create a holiday to remember with the Easter basket fillers offered by Little Obsessed today!