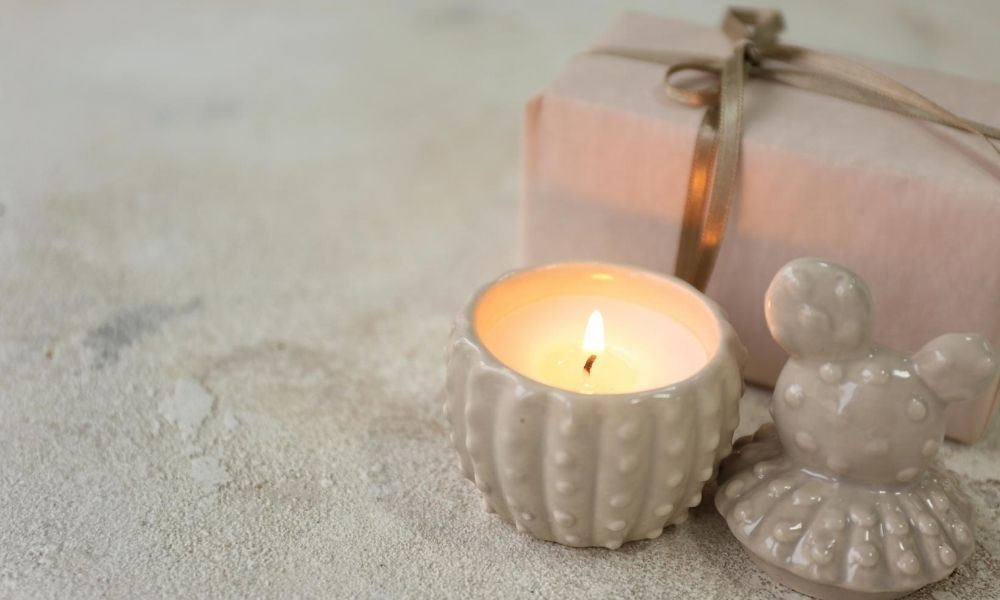 If you have a friend or family member who collects candles, it might be hard to think of a meaningful gift idea. Just because they like candles, it does not mean that your gifts to them need to be as simple as a candle or a gift card. There are ways you can put your heart into a unique gift for the special candle collector in your life; you just need a little inspiration. The best gifts for candle lovers do not only have to be candles—there are plenty of other gifts that will please any kind of candle collector.
Customized Candles
There are ways that you can spice up a candle from a store to personalize the gift before you give it, and some stores even include easy customization in the purchasing process. Custom features you can add to your candle can vary from unique scents to personalized pictures to the candle holder itself. If you're adding a picture to the candle, pick a picture that means a lot to both you and the recipient. Match the picture with their favorite scented candle, and you have the perfect heartfelt gift.
If your candle lover prefers the aesthetic of candles as opposed to the scent, consider getting a cool, custom-shaped candle. Since candles are composed of wax, people have specialized in designing creative candle sculptures that can sit on your mantle or function like any other candle. Some candles even feature surprises inside, like jewelry or gemstones. If the candle hobbyist likes sustainable materials or beeswax, consider a beeswax candle.
DIY Candle Kits
Crafty candle connoisseurs might have a vested interest in trying their hands at making candles. Get a candle-making kit that you and your friend or family member can use together. It might be more expensive than a candle, but the experience of creating a candle with your own hands will give you and your gift recipient a sense of pride every time you use or look at the candles you made. There may even be a business near you that has candle-making classes or activities that you can do together or buy a gift card for.
Candle enthusiasts might already make their own candles, so if that's the case, try gifting them unique mediums to put their candles in or even materials for the candles. Not only are you showing interest in their hobby, which shows you care, but they'll also be happy that they don't have to spend money on more materials themselves.
Fragrant Candle Alternatives
Some candle lovers may collect candles simply for the scents. If this is the case, maybe they don't need (or have room for) any more candles. Consider gifting them a wax melter or an air diffuser instead. Wax melts can melt, reform, and melt again until they get worn out. They have similar scent profiles to candles and can go anywhere with an electrical outlet. Wax melters are useful for areas of the house that you don't want to place a burning candle unsupervised, such as bathrooms and hallways. Diffusers are a bit different from candles and wax in general. You can put scented essential oils in a diffuser to spray healthy, scented air in your home. Essential oils can be pricier than either candles or wax melts, though, so keep that in mind when gifting a diffuser.
Candle Holders
Candles can be the centerpiece of a dining table or the quiet accent in a bathroom, so gift your candle lover with the right decorative candle cradle. Large dinnertime centerpieces can add a flair to dinner parties. You can even make one yourself as a DIY project. Pick the perfect centerpiece or décor that suits their personality and highlights the candle.
For smaller accents, such as for a bathroom, consider a cute tealight holder. Little Obsessed has a variety of tealight candle holders for any enthusiasts, whether they prefer the natural touch of a stone candle holder or the homey feel of a cute animal tealight holder.
Another idea for the more eccentric candle lover is a candelabra. Some enthusiasts adore the idea of carrying an antique Victorian candelabra through the house at night. Let them live out their fantasy by buying them an outside-the-box candelabra. Even if they aren't the type to invest in antiques, there are modern variations on candelabras that you can purchase that might suit their home better.
Candle Accessories
A candle lover will adore a new unique matchbook to add to their collection. Anything that can light their candles while looking pretty is a good idea. You can also consider buying them a new lighter, whether it's something basic or one designed specifically for lighting candles safely. Along the same line of thinking, you could also buy them a candle snuffer so that they don't have to reach or risk burns when putting out candles.
A truly unique gift would be a wax seal set. Wax seal sets use candles to heat wax that drips onto letters, where you then stamp the seal closed. It's a clever gift for any candle lover who enjoys old-fashioned concepts.
Gifting for Groups
When looking for party favors or gifts for coworkers, it can be difficult to think of things that everyone will appreciate. In this situation, some of the best gifts for candle lovers can be the tiniest of presents that let them know that you're thinking of them. Inexpensive stocking stuffers aren't just for holidays—you can give them all year-round. Our stocking stuffer selection includes many tiny party favors for the perfect addition to your candle-themed gift bags, such as our cute mini-pear candles. Wrap your candle gift bag up with a couple of tealight-sized candles and a cute matchbook, and you have an adorable themed gift bag for your friends.
There are many gifts that you can give your favorite candle lover to show them that you care, but in the end, it comes down to the reason they enjoy collecting candles in the first place. When you want to pick out a special gift for a candle lover, consider why they like candles. If you know why candles hold sentimental value to them, it will help you figure out the perfect gift to make them happy.